Wampole is proud to launch new bottles made from recycled materials, among the first in Canada's natural health products sector.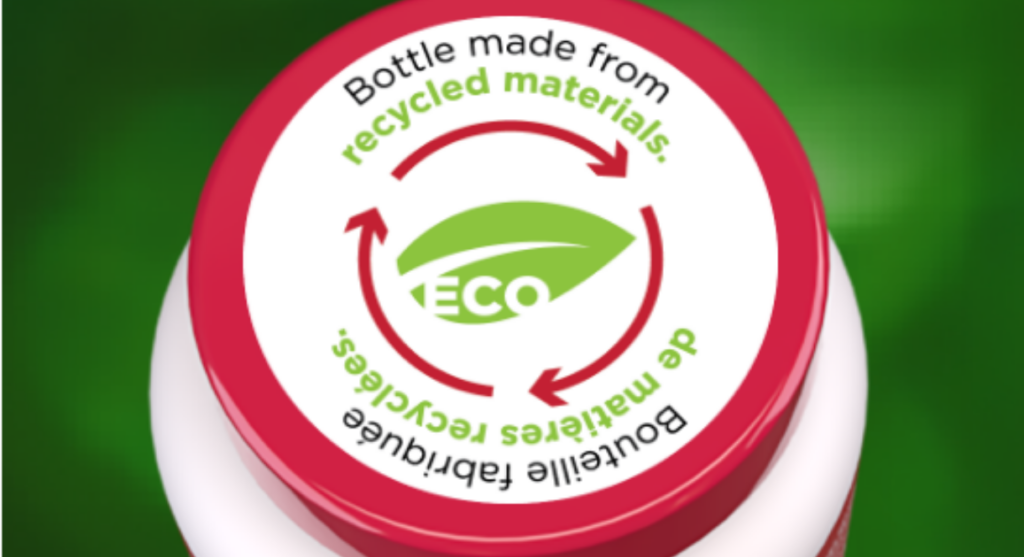 Knowing that health is in part derived from a cleaner environment, Wampole is proud to engage in a genuine environmental approach. Our objective is to enrich our offering to consumers by continuing to provide them with high quality products while also doing more to protect the environment.
As these new bottles are gradually introduced to the market, we will reach a 30% proportion of our products being marketed in packaging made from recycled materials by the end of 2021. We want to give more value to consumers who are not only concerned about their health, but also about their environmental impact. Our new eco-friendly packaging complies with pharmaceutical standards applicable to natural health products as defined by Health Canada, thus ensuring and preserving the quality of our products
LOCAL MANUFACTURING AND PACKAGING
There are many benefits to encouraging local manufacturing and packaging. Environmentally speaking, it reduces transportation and GHG (Greenhouse Gas) emissions, among other things. As a proud Canadian company, we support local manufacturing and packaging as a way to stimulate job creation and Canada's economic vitality. Many Wampole and Adorable supplements and natural health products are in fact packaged in our Canadian facilities. Moreover, whenever possible, we select local suppliers, as is the case for our new eco-friendly bottles made from recycled and recyclable materials.
CONTINUOUS IMPROVEMENT
Being an eco-responsible leader means we are always seeking to do better. Our environmental approach is part of an internal process of continuous improvement. We are constantly looking for new ways to reduce our environmental footprint. For example, we are exploring ways to improve our energy efficiency and to reduce our waste. We are also attentive to our partners, consumers and their expectations towards being an eco-responsible company.
OUR COMMITMENT FOR 2025 :
• Commercializing at least 75% of our products in packaging made from recycled materials
• Removing cardboard boxes for all products already packed in a plastic bottle
• Selecting, whenever possible, suppliers with sustainable material certifications for our cardboard packaging (e.g. FSC-certified/Forests For All Forever) or packaging made of compostable materials.
Find this logo on products already available in bottles made from 100% recycled materials.
Local supply of bottles made from recycled materials
100% made of second life plastic
All ECO bottles are recyclable